Waste & Recycling
GOAL: Increase district diversion rate to 30%.
Goal Update
2010 Baseline: 11.7%
November 2021 Update: 22.8%
Goal: 30%
COVID-19
Due to COVID-19, the total amount of waste decreased 66% in August 2020, compared to August 2019. Between March 2020 and August 2020, total waste was very low because schools were almost entirely unoccupied. Although there is no clear pattern for the reduction in landfill and recycling volumes over the course of these months, the reduction will likely show up in annual (12-month rolling total) diversion rates for the next few months.
Diversion Rate Increase
There has been a steady increase in the volume of recyclables diverted from the landfill since 2011. Between August 2018 and June 2019 a total of 39,515 cubic yards were recycled. The district's diversion rate has been hovering around 22% for the last two years. Part of the reason for this plateau is an increase in the annual volume of landfill-bound waste due to a steady increase in size and programs at OPS.
Waste Reduction
Tray Stacking
An emphasis on tray stacking in the cafeteria and the addition of composting at several schools were the primary means by which schools were able to reduce their waste in 2019. Some schools have reduced the volume of material sent to the landfill each month by up to 60% after adding composting and tray stacking. Chandler View Elementary, for example, was able to reduce their waste by 40% with the addition of these strategies. These and other tactics will be used to continue to reduce waste at OPS in 2020.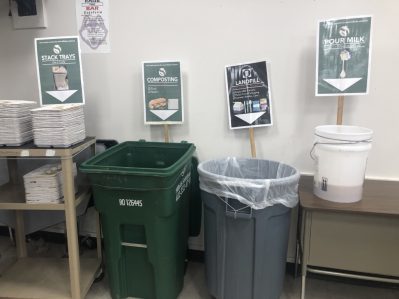 Northwest High School's cafeteria composting setup
Composting
A total of 11 schools are currently composting in the cafeteria:
Dundee Elementary
Washington Elementary (see right)
Gomez-Heritage Elementary
Crestridge Elementary
Bancroft Elementary
Liberty Elementary
Chandler View Elementary
Northwest High School
Davis Middle School
Central Park Elementary
Harrison Elementary